"In the luminous Soul Healing with Our Animal Companions,  Billups introduces animal lovers to the many ways that energy healing can help promote emotional and physical wellness in our animal companions and ourselves. Believing that our animals come to us in order to help us heal or accept our aid in their own healing, Billups shows how mirroring traumas and hidden harmful behaviors can lead to an understanding of how such issues can hold all creatures back from reaching their full potential and living a life of compassion and self-worth.
If this pihilosphy sounds a bit too New Age, do yourself and your animals a favor by reading Soul Healing with Our Animal Companions with an open mind and receptive heart. You might just find your life changed for the better." Best Friends Magazine
********
"Soul Healing with Our Animal Companions ultimate message is one of greater spiritual consciousness and personal evolution: By recognizing that our beloved pets are in our lives because we call to them, and vice versa, we can expedite our growth, as well as that of our pets." Natural Awakenings Magazine
********
"A powerfully insightful book.  Soul Healing with Our Animal Companions teaches you how to connect with animals in ways you'd never thought were possible.  An enlightening read."  Jennifer Skiff, Bestselling Author of God Stories & The Divinity of Dogs
********
"Tammy Billups teaches us that we aren't in it alone. The powerful connection we have with our animals, can fulfill them and us in ways we never knew. If we just take a step back and observe, we'll realize that our animals may understand us better than we understand ourselves. Soul Healing with Our Animal Companions helps us all make that realization in a wonderfully engaging read that will encourage everyone to learn the unspoken signals of their furry friends in order to nourish a deeper and meaningful animal-human relationship." Mike Bettes, Meteorologist at the Weather Channel and owned by "Joplyn", the orphaned dog he rescued during the 2011 Joplin MO tornado.
********
"In Soul Healing with Our Animal Companions, Tammy Billups introduces us to the sacred spirits of our animal companions in such a way that our relationships with them will never be the same.  She dives so profoundly into the synergetic relationship with these beloved creatures, that we meet them at the level of our collective soul.  As a result, the spiritual path of both animal and human is greatly enhanced.
Through intuition, education, story and practical application, Tammy creates a road map that transcends mere connection and offers mystical insights that are sure to deepen even the longest friendship. Soul Healing with Our Animal Companions is far more than a book about animals, it is an invitation to transformation and sacred partnership.
I particularly enjoy the sensitive manner in which Tammy acknowledges difficult emotions, ours and those of our furry family members and then uses them to construct a portal through which healing and oneness can happen.  This is the work of a sincere spiritual guide whose authentic revelations are a necessary awareness for the evolution of our planet.  As a fellow lover of all creatures great and small, I thank Tammy for being such a vital and important voice on our collective journey toward oneness with all creation."  Rev. Richard Burdick, Unity North Atlanta
*********
"Soul Healing with Our Animal Companions gives us a comprehensive avenue to help connect with our animals at a deep level. Tammy's true stories with her heart-centered presentation easily explains the animal's role in our lives. She offers simple solutions to turn things around through self-discovery and the unconditional love we share with our animal companions. If you have concerns about your animal or just love them dearly, this is a must read!"  Carol Komitor, Founder, Healing Touch for Animals®
**********
"It is rare indeed to find a master healer who has done so much of her own inner emotional healing work. Tammy Billups walks her teachings. Her unique life mission to illuminate the profound healing connection between animals and their humans is a true and needed gift at the right time. Now, when Mother Earth is pleading with us to wake up and honor all living things, we are blessed to have this wisdom. Tammy calls us to examine our all-too-human extremes of mistreatment and neglect of animals versus our co-dependent and over-attentive neediness with our animal companions, and to find a healthier higher ground. She gently yet firmly teaches us to look for the divine purpose and deeper meaning in all our predicaments with our animals as reflections of ourselves.
"Soul Healing with Our Animal Companions is an essential read for all animal lovers, whether you are on the front lines of animal activism or quietly living with animal beloveds. It will open you, empower you, deepen you, and work magic on your own soul. May we use Tammy's insight and guidance to remove the veils of illusion and discover the true nature of our animal companions and ourselves as Wounded Healers, as Ram Das says "walking each other home".  For many years now, I have been blessed to witness profound shifts from Tammy's work with my own adopted animal clan and the animals in my extended families. Thank you, Tammy, for now offering your gifts to the larger world."Anyaa T McAndrew, MA, LPC, NCC  Transpersonal~Shamanic Psychotherapist
*********
"Pet lovers know there is a unique connection between human and pet. It's only when we go deeper into animal and human psychology do we see just how unique that connection truly is. Animal Healer Tammy Billups takes us beyond the fur, the obvious affection for our pets, and shows us our connection is heart to heart and Soul to Soul.  Written in an easy, entertaining and enlightening style, Soul Healing with Our Animal Companions dives deep with real life antidotes to illuminate behavioral patterns and how they were successfully overcome.  Billups, an Interface Therapist in the field of Bioenergetics, teaches us when we step back from placing our emotions on our pet and look deeper inside ourselves we can see the behaviors are being mirrored by our pet. As we heal ourselves, the relationship with our pet changes and our pets are our willing and loving participants in this healing relationship.
Soul Healing with Our Animal Companions is not just a book filled with Billups' successful antidotes but also a guide on how to handle different difficult situations and ways to bridge the communication gap in the Human/Animal connection. Billups' explores with us different behavior types most of our pets fall into and how each of these types are elements of ourselves and our pet waiting to be healed. A journey of love, compassion and healing, Soul Healing helps us find ourselves through our beloved pet and grow the bond between the two worlds in a way that is healthy, joyful and long-lasting.
From a Shamanic perspective we know animals are an extension of ourselves. Billups shows us very clearly how our pets truly have a Higher purpose, a Divine Commitment if you will, to help us see beyond ourselves. Soul Healing will not only help you understand your pet better but will also help you understand yourself better. Billups shows us just how our pets are our teachers and companions through "good" and "bad" and how we are truly interconnected.
After reading this wonderful book I'm now convinced, more than ever, of the Soul Journey we share with our pets. Soul Healing with Our Animal Companion is a must read for any animal lover who wishes to deepen the connection with their pet and how to discover and heal behavioral issues for a happy and healthy home." Don Reed Simmons, Visionary Business Consultant, Shamanic Teacher/Practitioner
*********
"Soul Healing with Our Animal Companions offers amazing insights into our beloved companions and reveals the issues that we often share with our pets. Tammy's bioenergy healing work with thousands of animals (and people) and what she has learned has given her an invaluable understanding of what our animals need from us, and what we need and can receive if we raise our level of awareness. I feel blessed to have been invited to write a review for this outstanding book, because I have learned so much that I am already putting into practice. I can't wait to have Tammy do a session on my dog. I wonder what message she will have for my own healing needs!" Carole O'Connell Author of: The Power of Choice; Seven Secrets to Abundant Living; and The Adventures of CJ and Angel
*********
"For the last ten years, Tammy has donated sessions and worked with special needs cases of dogs and cats under the care of Our Pal's Place, provided advice to the leadership team of Our Pal's Place when making tough decisions, and has guided me through difficult times with my pets time and time again. It has been such a privilege to work with her!
Through Soul Healing with Our Animal Companions, I have an even better, more conscious understanding of the relationship between humans and their pets. Soul Healing opened my eyes to how animals mirror our own lives and emotions, and gift us endless blessings that many times we completely miss.
By understanding how we are in relationship with our pets (in particular, sections The Connection and The Knowing), we can more quickly help them to feel better. My wish is for all people to have exposure to the vast knowledge and teachings of Soul Healing with Our Animal Companions for their own healing and the well-being of their pets. Thanks, Tammy, for sharing your knowledge, guidance and gifts with us!" Gigi Graves, Founder and Executive Director of Our Pals Place, Inc.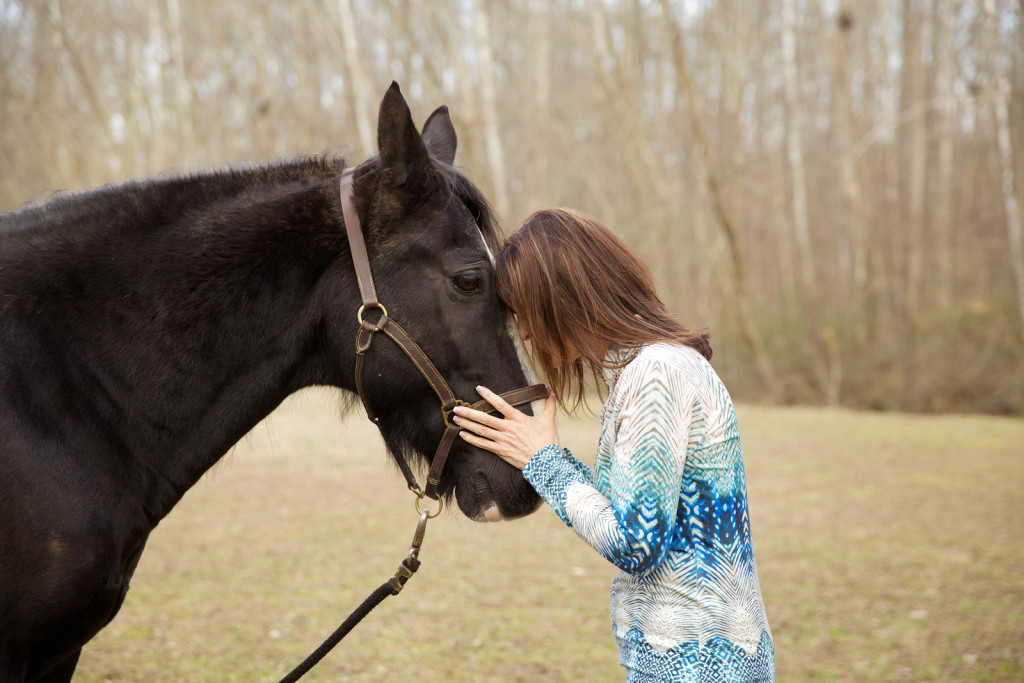 Author Tammy Billups with Magic, a truly magical horse that lives at the Conscious Living Center in Canton, GA.